Benedum Center | Pittsburgh
Soprano extraordinaire Sarah Brightman comes to Benedum Center on Tuesday 12th February 2019 on her Hymn Tour! The phenomenal British singer is performing in support of her fifteenth studio album, which is written as an uplifting antidote to the world's current chaos, and takes on a spiritual feel:
"It's obviously going to have a lot of choir, lots of humans in this show," says Brightman. "I had enough of energy screens on the last tour. This one is going to be very human, full of lots of musicians and beautiful lighting. We're figuring out everything that we're doing now, and I'm very excited."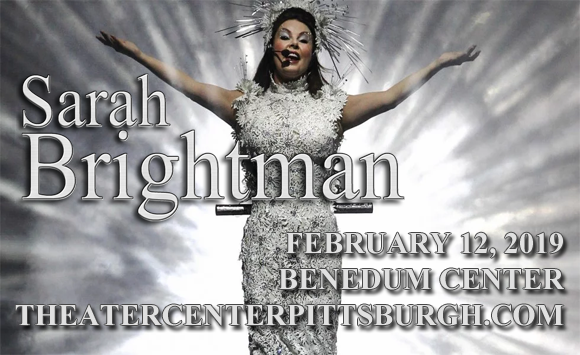 English classical crossover soprano singer, actress, musician, songwriter, conductor, and dancer Sarah Brightman began her career in 1973 as a member of the dance troupe Hot Gossip, with whom she had the 1978 disco hit "I Lost My Heart to a Starship Trooper", reaching number six on the UK Singles Chart. Three years later, she made her West End debut in the musical Cats, and met her future husband, composer Andrew Lloyd Webber. Brightman went on to star in a multiple West End and Broadway musicals throughout the 1980s, including The Phantom of the Opera, where she originated the role of Christine Daaé. In 1990, Brightman retired from the stage and returned to her music career, originating the classical crossover genre alongside former Enigma producer Frank Peterson. Her 1996 duet with Italian tenor Andrea Bocelli, "Time to Say Goodbye", is one of the best-selling singles of all time. Throughout her career, Brightman has sold more than 30 million records and 2 million DVDs, and has achieved over 180 gold and platinum record awards in 38 different countries. Brightman's fifteenth full-length album HYMN will be released in 2018.