Benedum Center | Pittsburgh
Are you ready to move into the city built by rock n' roll? Get ready to get lost in a space in time where big rock n' roll dreams are made of big hair, glam rock outfits, and electrifying music. You don't need to go far and wide. The "Rock of Ages" tour caravan will maneuver its way down here at the Benedum Center on Sunday 28th July 2019. Rock of Ages caters to a wide spectrum of audiences, who can get the best of both worlds — rock, theater, musicals, and everything in between. Whether you want to get seated or join in the mosh pit, you need to get a ticket. With fans from both camps who are raring to get their hands on tickets, it is a must to book your tickets early before the 'sold out' sign comes up.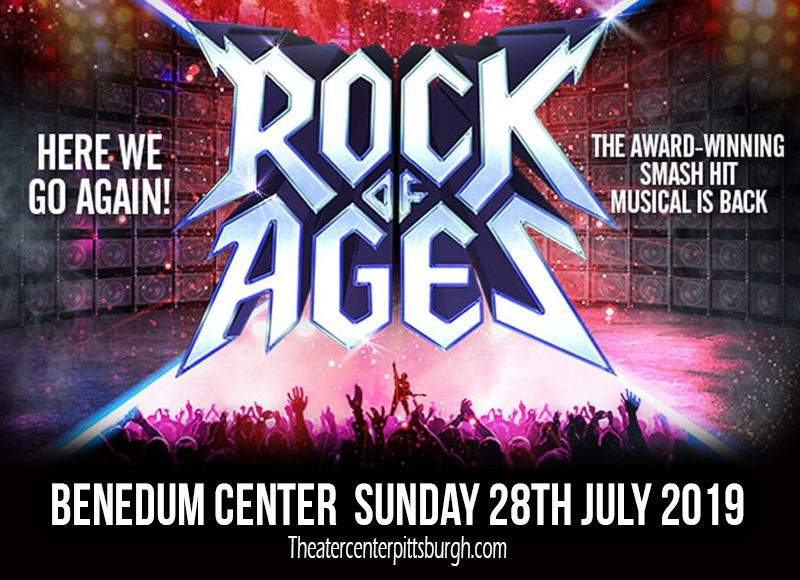 The sensational hit musical "Rock of Ages" is back to make rock n' roll dreams come true. Experience the merging of rock and musical theater and watch it unfold with big dreams, big hair, glam rock, and a stellar plot.
Rock of Ages is actually a single by Def Leppard, then made into a musical under the brilliant musical direction of Chris D'Arienzo. With a storyline set in 80s Hollywood, the music features an ultimate and infectious throwback to 80s anthems like "We Built This City" by Starship, "The Final Countdown" by Europe, "Here I Go Again" by Whitesnake, "Can't Fight This Feeling" by REO Speedwagon, "Don't Stop Believin'" by Journey, "Every Rose Has Its Thorn" by Poison, "Heat of the Moment" by Asia, "I Want To Know What Love Is" by Foreigner, and a whole lot more! Rock of Ages rocked Broadway, London's West End, Las Vegas and all the way to a star-studded Hollywood movie.
Each scene will prompt a spontaneous sing-along party, revealing those pent-up guilty pleasures that would be really hard to suppress and resist. Go and give-in to the desire to click 'buy tickets' now!