Benedum Center | Pittsburgh
Get ready for some holiday-themed mayhem, as the beloved Trailer Park Boys, Ricky, Julian & Bubbles come to Benedum Center on Monday 3rd December 2018, bringing you A Sunnyvale Christmas! Riding their "sh*t-sleigh" down from Canada, the boys come baring the Christmas spirit in the form of hard liquor, spreading the Christmas message to all in America! Get ready for capers and shenanigans aplenty as these fellas get festive!!!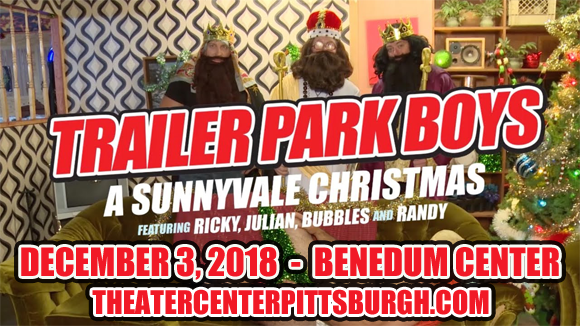 Originally a 1999 film of the same name, Trailer Park Boys is a Canadian mockumentary TV series, created and directed by Mike Clattenburg. The show focuses on the day-to-day comings and goings of the residents of the fictional Sunnyvale Trailer Park, many of whom are ex-convicts. The show premiered on Showtime in 2001 and ran for seven seasons, with the series finale premiering on December 7, 2008, and there were three films released alongside the series: The Movie (2006), Countdown to Liquor Day (2009) and Don't Legalize it (2014). The show was so popular that it was picked up by Netflix in 2014 for seasons 8 and 9. In 2016, a new 8-part series, Trailer Park Boys: Out of the Park: Europe, became available for streaming on Netflix, and the following year, a second season titles Trailer Park Boys: Out of the Park: USA, premiered on Netflix. There have now been 12 seasons of Trailer Park Boys, and the stars of the show regularly tour, performing live theater shows in character.